Fun time!
This is my attempt at being fun.
I hope it is at least mildly entertaining to you.

The following four snippets were found in production:

---

int qty = int.Parse(User.Principal.Sales.Count.ToString());
Note that Count is already an int. There's no need to turn it into a string to parse it back to int...

---



'If the list is empty, I don't raise any specific error. I left the caller to notice the problem...




If

rsADO.EOF

And

rsADO.BOF

Then GoTo

Clean_Exit

It doesn't seem "Clean Exit" to me...
---



Function

LocalDateTime(

Optional

dtDateTime

As Date

= 0)

As Date




'STUB: It needs to check if there's a better way of doing it!!




'Description: Provides local date/time when in an American server.




'Created: May/07/2002




'Last change: May/14/2002




If

dtDateTime = 0

Then

dtDateTime = Now
LocalDateTime = DateAdd(

"h"

, 2, dtDateTime)


End Function


Thank God there's no such a thing as daylight saving time. Oh, wait...

---

Old ABAP programmers use null. Modern ones have better alternatives:



---

When people leave the company, sometimes they send an email thanking everyone who helped them there.
I received one from Renard (not his real name) with 71 other persons in CC.

A few minutes later there was this e-mail in my inbox:
(I slightly changed the text to protect the guilty.)

Hello Renard,

It was a pressure for me to work with you.
You are for sure a team player that any manager would want to have as part of their team.
All the best to you!

Regards,
Roderick Marmelade

I thought it was weird to say something like that to someone leaving the company, but, oh well.
Then a couple of minutes later there was another incoming e-mail:

Hi, Renard,

I meant to say "pleasure" to work with you... Please, sorry, my bad!

Regards,
Roderick Marmelade


---

Finally, my very first strip comic!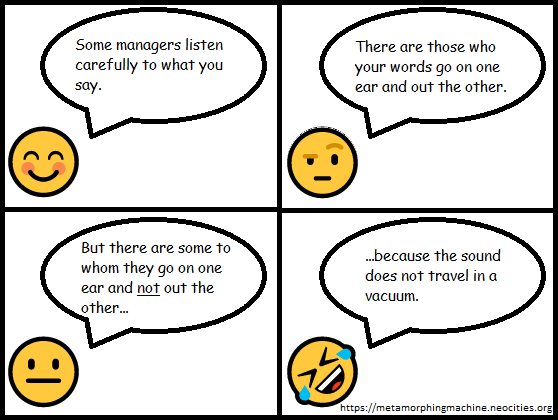 (Why, yes, I did it using MSPaint, thank you very much!)

Next week we'll straighten some things to resume working on our transpiler.

Andrej Biasic
2021-01-20